Hotel - Restaurant Föttinger
on lake
Attersee

Where tradition and Austrian hospitality are at home.

The inn "Zum Höllengebirge" named after the deep red alpine glow illuminating "Hell's mountain range" at sunset, is located in the so called "Mountaineer's village" of Steinbach am Attersee. The hotel offers a unique combination of cultural, lake and mountain experiences at one of the sunniest locations around the lake. The Föttinger family is extremely enthusiastic about the mountains: that's why they are always happy to advise guests when it comes to hiking, climbing or bike tours in the surrounding area. Innumerable trails, suitable for beginners or experienced mountaineers, with fantastic panoramic vistas are accessible from the hotel's doorstep.

The Föttinger family's deep regional ties are also evidenced by the hotel's cuisine, which tempts guests with high-quality Austrian dishes made exclusively from regional ingredients and freshly caught Attersee fish.

The long-established four-star hotel has a great deal to offer, for example, a nostalgic excursion on the ship "Liesa" for up to 20 passengers. The ship can be rented for private functions, but is also available to guests of the house for free tours around the lake. Mr. Föttinger Senior then takes the helm, telling his passengers all kinds of tales about the lake the magnificent villas on its shores and of their proprietors through the ages.

For successful conferences, but also for private celebrations, such as weddings or family celebrations, two well-equipped seminar rooms and a large hall for up to 200 people are available.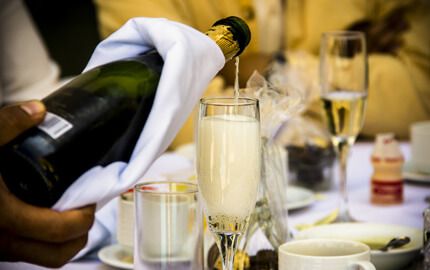 Famous guests
In the past, the charming, approximately 120-year-old house accommodated well-known lovers of the Attersee: the two composers Gustav Mahler and Friedrich Gulda were regular guests - the former created parts of the Second Symphony as well as the entire Third Symphony in the "Composer's Cottage" located on the hotel grounds.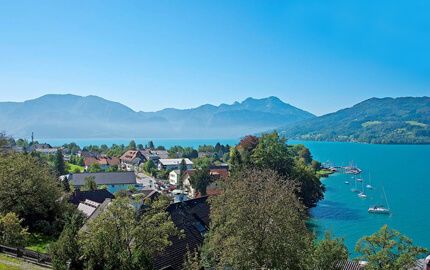 Sunniest location
The location on the eastern shore provides guests with maximum sunshine enjoyment: provided the weather is good, the sun shines illuminates the grounds from breakfast to dinner, and at the height of summer, the sunshine can be enjoyed until about half past nine in the evening when the sun sets!
SEMINAR rooms
Room SEEFELD

: 56 m², daylight, free seating, Wi-Fi, projector and its own foyer

Room MAHLER

: 72 m², daylight, free seating; Wi-Fi, own foyer, direct exit to the outside, barrier-free accessibility

Small HALL

: 75 m², daylight, free seating, Wi-Fi, projector, barrier-free accessibility

Big HALL

: 230 m², daylight, free seating, Wi-Fi, projector, barrier-free accessibility

GUSTAV MAHLER Hall

: 300 m², free seating, orchestra stage, directly opposite the "Bierschmiede" ("Beersmith's")